Structural Steel
Edison Middle School
L&N Metal Works is a trusted structural steel and architectural fabricator for schools and colleges in Wisconsin and Upper Michigan. This structural steel project, an addition to Edison Middle School in Green Bay, Wis., includes unique architectural features on its radius – flared walls and curved steel. These components add interest and appeal to the commons area of the educational facility. When completing time-sensitive school additions like this one in Green Bay, L&N Metal Works has proven its ability to work under tight deadlines and meet critical schedule milestones.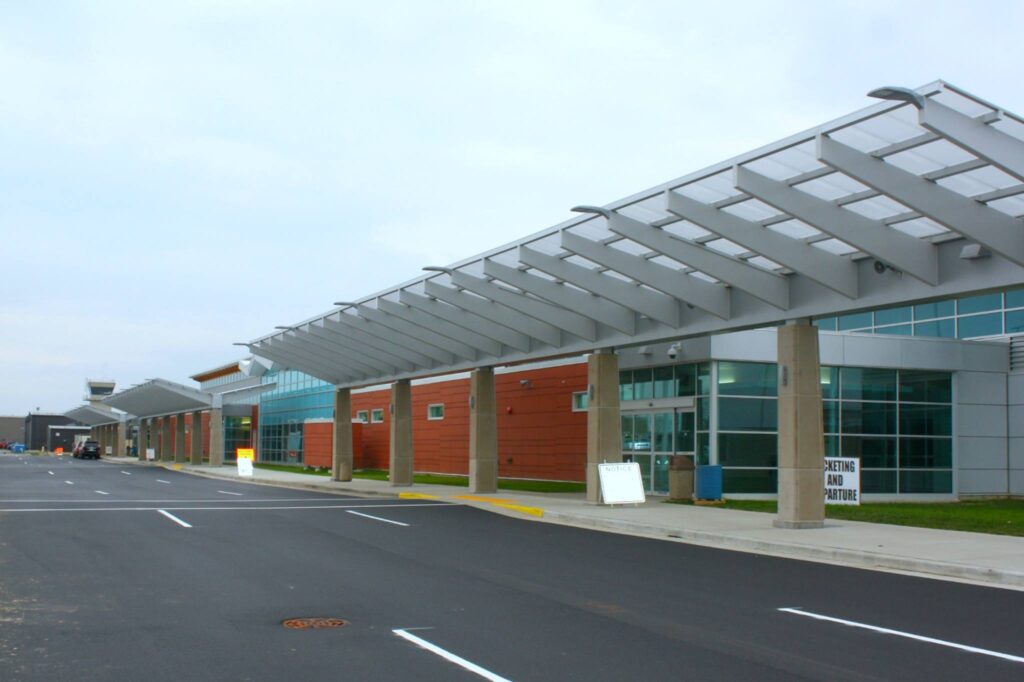 Central Wisconsin Airport Canopy
Functionality and artistry unite at the entrance to the Central Wisconsin Airport in Mosinee, Wis. These three, attractive canopies fabricated by L & N Metal Works greet travelers and airport guests. The custom-designed, taper-tube frame canopies make a positive first impression at the terminal gates. Plus, they provide shelter from the sun, rain, and snow for travelers coming and going. The 120-foot canopy sections were custom fabricated at L & N Metal Works for this one-of-a-kind look.
EVCO Plastics Oshkosh
This aerial image of EVCO, a plastic manufacturing firm in Oshkosh, Wis., shows L & N Metal Works' ability to complete expansive structural steel projects. This 30,000 square foot addition is framed with steel columns, beams for supporting the roof joists, and bridge crane framing. L & N Metal Works submits competitive, reliable bids for commercial projects like this and fabricates the structural steel in accordance with American Institute of Steel Construction (AISC) standards.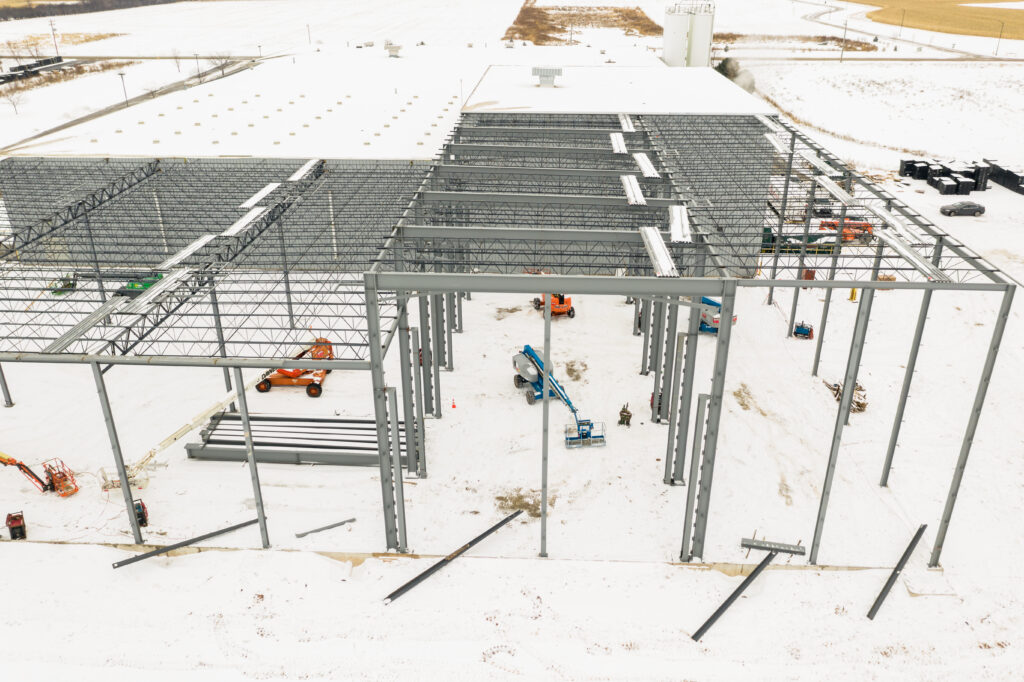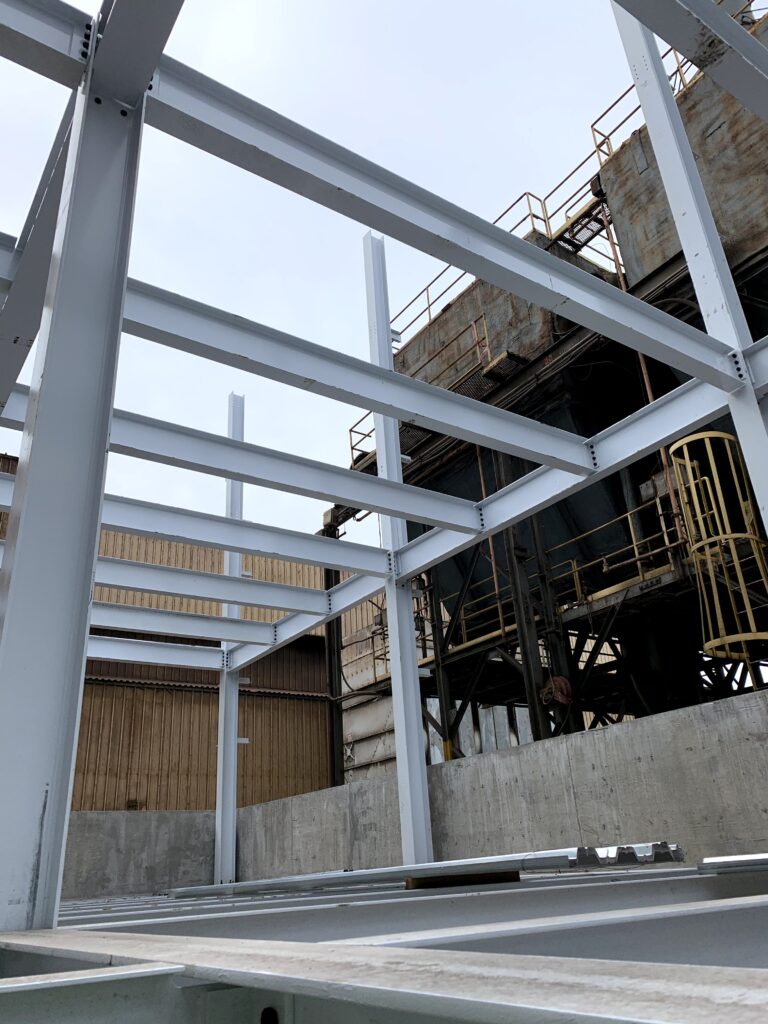 Industrial Structural Steel
This building addition houses the mechanical systems at a Marinette, Wis., manufacturing facility. The industrial structural steel provides strength and support for the multi-level facility. L & N Metal Works' fabrication expertise was integrated into the ground floor, second floor, roof, and exterior. L & N fabricated structural steel columns and beams with bolt connections. Additionally, L & N completed load bracing, C girts, and structural floor framing. From inside out, top to bottom, this addition framed with industrial structural steel is made to last.
Mezzanine Structural Steel
Yahara Bay Distillery in Madison, Wis., created an industrial-style ambiance at its facility by incorporating mill finish steel columns, beams, stair railings, angle iron, and mesh infilled railing panels fabricated by L & N Metal Works. To suit the character of the room, the steel is not painted or finished. L & N Metal Works also supplied industrial-style window frames at the bar area. The raw steel aesthetics give the distillery a unique look and atmosphere.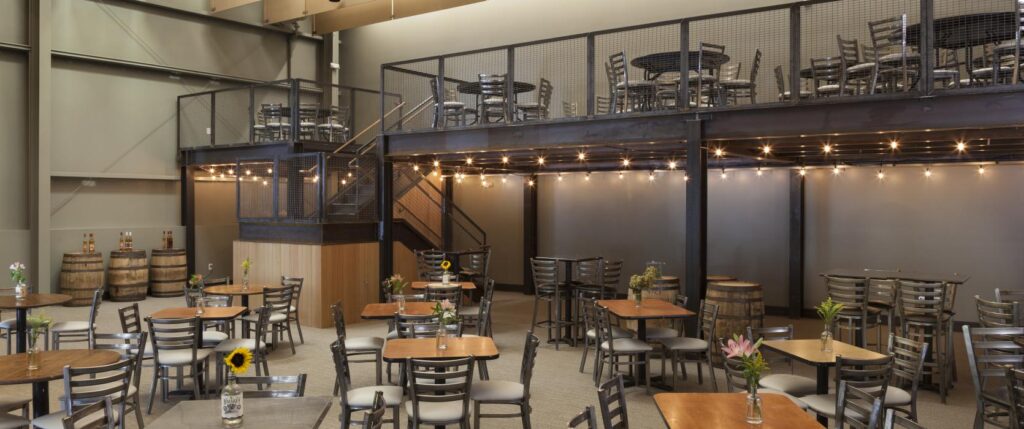 Stairs, Railings
Industrial Railing Marinette
This industrial railing system ensures the safety and easy movement of staff members at a Marinette, Wis., manufacturing facility. The structural steel stairs and catwalk railings provide access to the roof-top mechanical systems. The stairs feature bar grate treads, pipe railings, and stair framing. To improve visibility and enhance safety, L & N Metal Works painted the industrial railings safety yellow before delivering them to the site. This manufacturing facility now has a convenient, safe, and attractive passageway to the roof.
University of Wisconsin-Green Bay Plaza Railings
Foot traffic is high on college campuses like the University of Wisconsin-Green Bay. L & N Metal Works helped create safe stairways and walkways for the university's students, staff, and visitors. L & N fabricated 2,230 feet of galvanized and painted steel railings around the perimeter of the college's outdoor plazas. The railings are a functional, yet attractive, feature on campus. They blend well with the educational setting while also providing the desired durability and security for walkers.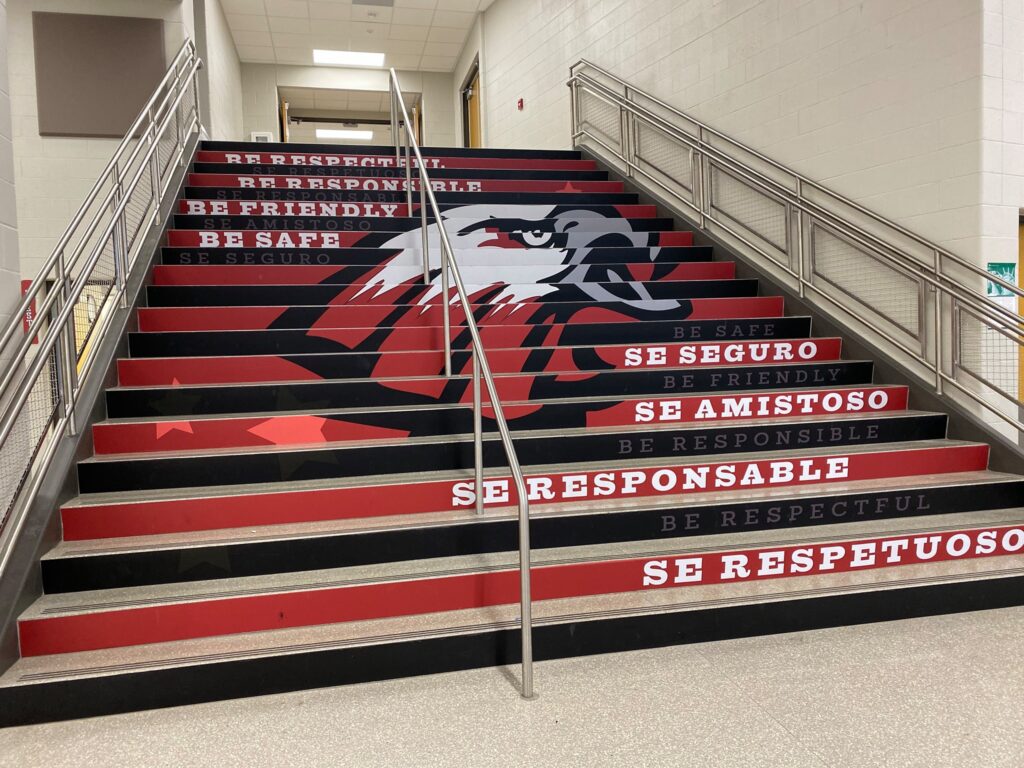 Edison Middle School Stainless Steel Railings
Edison Middle School in Green Bay, Wis., is building school spirit with this extra-wide, eye-popping staircase that shows Edison Eagle pride. Complementing the school's mascot and message is L & N Metal Works' stainless steel pipe railing. The railing is polished to a No. 4 brush finish and enhanced by mesh infill railing panels. Concealed under the flooring is the structural steel stair framing fabricated by L & N Metal Works. The staircase and railing provide a durable and safe staircase.
Besadny Fisheries
Visitors at Besadny Fisheries in Kewaunee now have easier access to the underwater viewing of Coho Salmon, Chinook Salmon, Brown Trout and Steelhead. L & N Metal Works fabricated the stainless-steel railing that takes visitors to the fish viewing area of the fishery. The handicap-accessible ramp complies with the Americans with Disabilities Act, allowing people of differing mobility the opportunity to experience the hatchery for themselves. L & N also fabricated window support frames at the fish viewing window for this Department of Natural Resources project.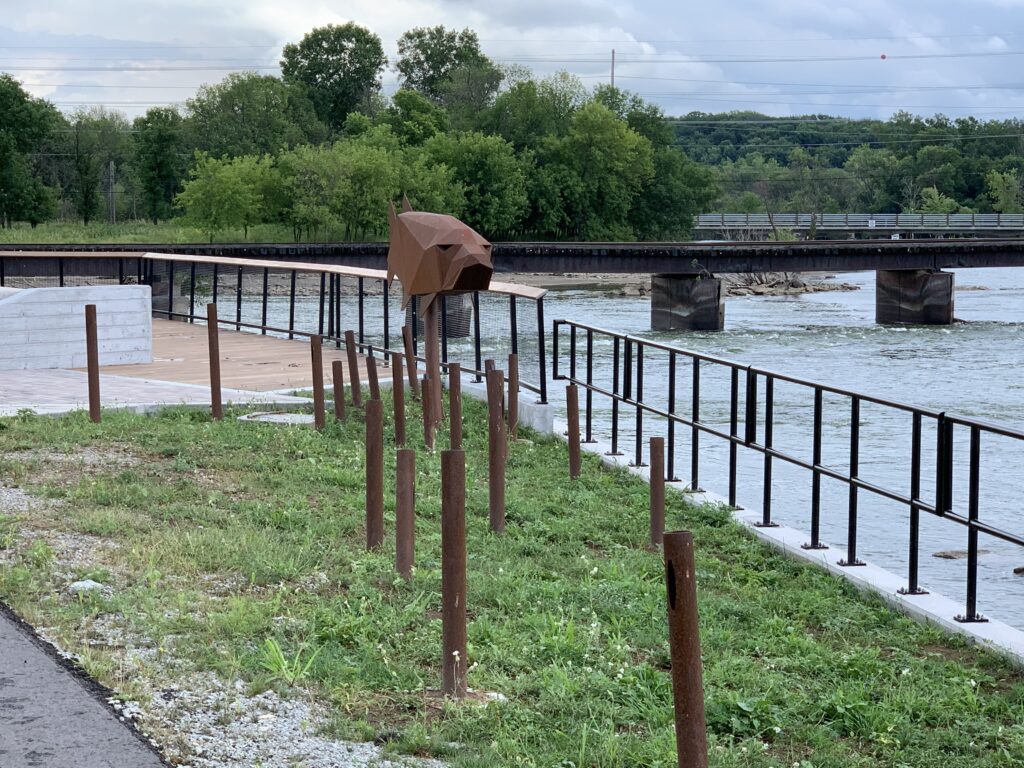 Grand Kakalin Overlook
This 15-foot-long, imaginative sculpture of a Northern Pike is on display outside the Kaukauna Public Library at the Grand Kakalin Overlook, a vibrant city space where people gather. This striking sculpture is fabricated from Corten-weathered steel. The artwork will maintain its stable, rust-like appearance for many years. The earth chimes placed around the sculpture sing as the wind blows across them. Together, the combined art pieces activate a person's sense of sight and sound. L & N Metal Works collaborated with the landscape architect and general contractor to create this stunning artwork, yet also fabricated something more mainstream – the steel railing and mesh infill railing panels located on the water's edge. This project showcases how L & N offers diverse metal fabrication, from creative artistic pieces to strong, functional metal products.
Aluminum Railings De Pere
This picturesque, waterfront residence in De Pere is enhanced with a 2-story deck and staircase leading down to the water's edge. The homeowners selected a solid aluminum railing, known to be of high quality and longevity. The solid aluminum railing has custom-made balusters and a powder-coat finish. The posts align on the upper and lower decks, and this symmetry adds beauty to the residence.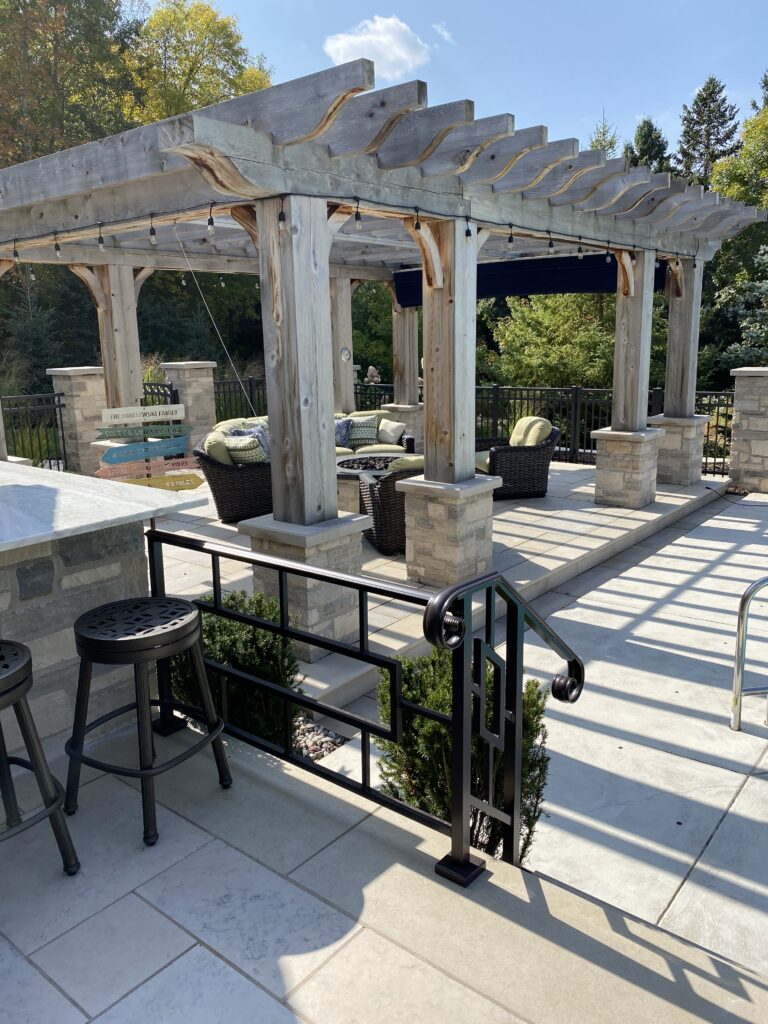 Aluminum Railing Green Bay
This attractive black railing provides a safe divider and railing between the upper deck and the lower deck of this Green Bay residence. The solid aluminum railing with powder-coat finish adds beauty to this outdoor gem where family and friends look forward to spending time together. The custom-designed and fabricated aluminum railing is both stylish and long-lasting.
Deck Railing Pulaski
This deck railing at a Pulaski, Wis., residence is an outdoor enthusiast's dream. The showpiece of this deck railing is the rustic moose panel. To create this custom deck panel, L & N Metal Works' drafting team designed the image in CAD. Next, the L & N team plasma-cut the design and an artist painted the image. Lastly, L & N retained the panel's rustic finish with clear coating. Completing the rustic look is a custom, wrought-iron railing made of hammered-edge steel. The deck railing provides safety and charm to the second floor.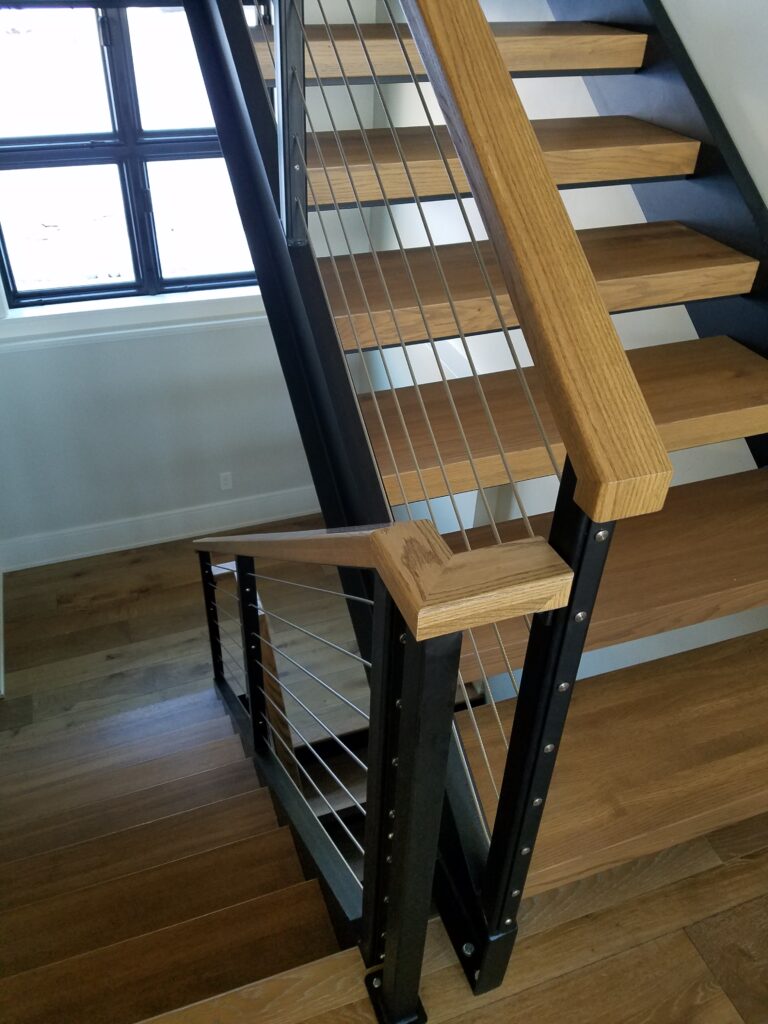 Stair Railing Sister Bay
Starting with only an idea and inspiration photos, L & N Metal Works designed this stair railing and balcony railing for a home in Sister Bay, Wis. The stairway features custom-made steel stair framing, stainless steel cables, open-stair wood treads, and a wood hand rail. The steel fabricated for this classy staircase has a powder-coat finish.
Spiral Staircase
This spiral staircase fabricated for a Sister Bay, Wis., residence is an attractive and functional alternative to a traditional staircase. The space-saving spiral staircase provides a convenient, private side entrance for family members to come and go without disturbing first-floor residents. L & N Metal Works fabricated the steel spiral staircase at its shop, delivered it to Door County in one piece, and performed the installation. The stairs have bar-grate treads which allow snow to fall through in the wintertime.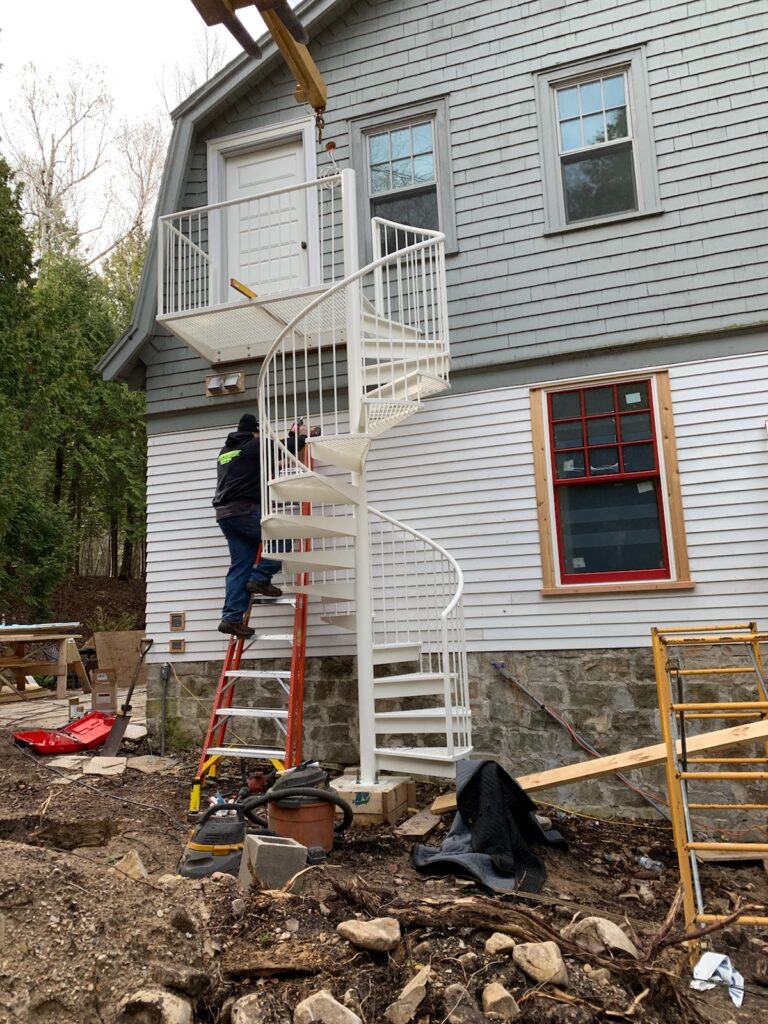 Décor
NWTC Decorative Aluminum Wall Panels
Technical college students preparing for energy-related careers now study in an environment geared toward them. To create an industrial-themed atmosphere, L & N Metal Works fabricated decorative aluminum wall panels for the Great Lakes Energy Education Center. The center opened in 2018 at Northeast Wisconsin Technical College in Green Bay, Wis. The decorative aluminum panels serve as accent pieces at the reception desk and in the second-floor corridor.
Steel Table
Integrated into this elegant interior design are two accent pieces fabricated by L & N Metal Works. The steel table and steel fireplace mantle enhance the décor of this home in Marquette, MI. L & N collaborated with an interior designer for this eclectic/modern project. The designer supplied inspiration photos, and L & N completed the design and metal fabrication. Whereas the decorative steel table has a clear-coat finish, the steel fireplace mantel has a metallic finish, giving it an appealing gold-bronze tint. The black-and-white color contrast, artwork, and steel accent pieces create a stunning look for this comfy room.